Conditions Jacksonville Beach F1
Relative W Atlantic Buoys/SE USA
Air Temp

Water Temp

Winds

Tides

VIEW OUR MOST RECENT VIDEO UPDATE BELOW
Northeast Florida Beaches Are Open

Report 2 – 12:00 PM

Today's Tides

| | | |
| --- | --- | --- |
| 6:53 AM | high | 5.4 ft. |
| 1:02 PM | low | 0.1 ft. |
| 7:18 PM | high | 6.3 ft. |

Good Afternoon Friends! Our large Hurricane surf continues. It's in the chest to head high ++ range with light to moderate ENE winds. At report time, with occasional larger sets, our choppy waves are "mostly" closing out. Give it a look and have a nice Tuesday!
Moderate Onshore ENE winds

Wow Alex!












Nice slide!

















































Coastal Hazard Message
National Weather Service Jacksonville FL
216 AM EDT Sat Sep 12 2020

Coastal Nassau-Coastal Duval-Coastal St. Johns-Coastal Flagler- Coastal Glynn-Coastal Camden- 216 AM EDT Sat Sep 12 2020

HIGH RIP CURRENT RISK IN EFFECT FROM 8 AM EDT THIS MORNING THROUGH SEPTEMBER 15TH TUESDAY EVENING

* WHAT…Dangerous rip currents expected. * WHERE…Southeast Georgia and Northeast Florida Beaches.

* WHEN…From 8 AM EDT this morning through September 15th, Tuesday evening. * IMPACTS…Rip currents can sweep even the best swimmers away from shore into deeper water.

PRECAUTIONARY/PREPAREDNESS ACTIONS… Swim near a lifeguard. If caught in a rip current, relax and float. Don`t swim against the current. If able, swim in a direction following the shoreline. If unable to escape, face the shore and call or wave for help.
Tropics Watch 2020

Keep an eye on the Tropics – Click image link below for current information.

When it comes to Tropical Storm Season, Mother Nature never lets us down. We are always discussing the next storm during late August through September. For surfers, it's usually a good thing as long as the Storms don't hit land. Let's hope for minimal destruction and firing surf in 2020!

Peak Season Is Now!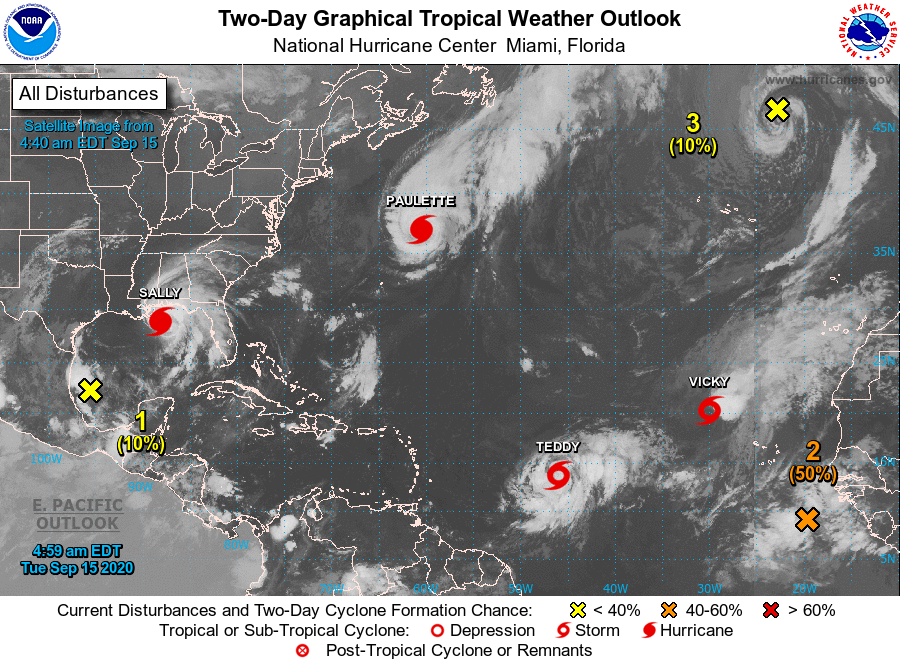 Buy Custom T-Shirts Here!
Subscribe to Our YouTube Channel