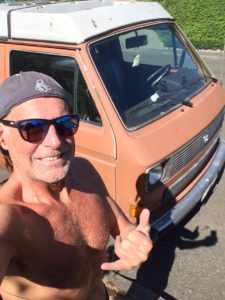 Pacific Northwest snapshot by Glenn T Goodwin, PhD, DABFE
A few years ago, I did a powerpoint presentation at EPIC on the Pacific Northwest surfing scene.  There were oooh's and ahhh's, but many didn't understand the bravado needed to face the elements, even sometimes in the summer.  But, thanks to O'neill (God rest his sprit), we are all rubber soul.  And so, far off the beaten path, it can be so good, that its hard to convey how good is good.
From my mates at Cleanline Surf Shop.
'In the Great Pacific Northwest there are seemingly countless waves that are surfed when the conditions are just right. Surfing  here is not for the timid.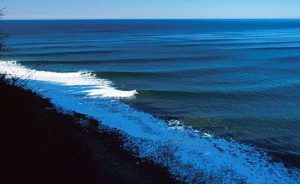 Two of my favorite quotes seem appropriate here, "fortune favors the brave" and "fools rush in where angels fear to tread", take your pick.
The surf at Short Sands is no secret and even though you have to "hike" a few minutes down a paved trail to get to the beach, it's worth it for the beauty alone. This perfect little rocky cove with its perfect sandy beach is indeed perfect for hanging out with family and friends. Facing southwest, it's largely protected from our summer winds that generally blow from the northwest and frankly can be cold.
The beauty, the Oregon Coast is so well known for, is on full display here (cover painting), but you will likely be sharing it with a few fellow beach lovers. When designing this oil painting I noticed the shape of the bank and overhang. It looks like a wave starting to break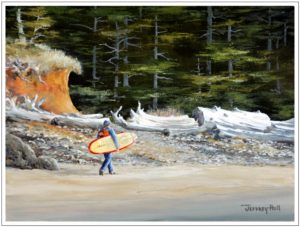 plus the negative shape mimics the curve of the surfboard. All of which helps tie the design together. After a day at Short Sands this guy was all packed up and about to disappear between the driftlogs back into the forest for his walk out.'
Cover painting: "Walking Out"  Original Framed Oil on Canvas 17" x 21" Image 12" x 16" All Rights Reserved
Keep the summer endless, keep your edge…